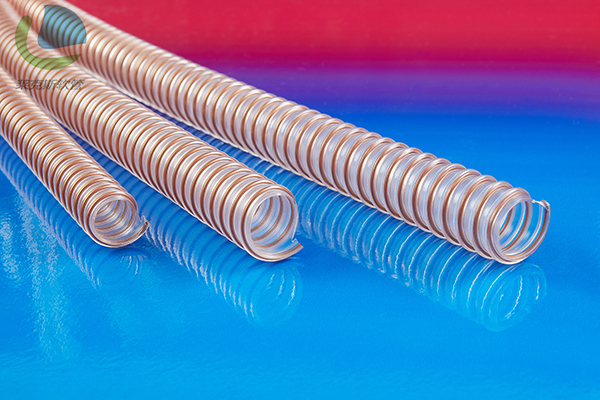 PU wear-resistant steel wire hose LKE554
Application: PU wear-resistant steel wire hose LKE554 is usually used for anti-wear protection, suction and transportation. It is especially suitable for high-flow rate abrasive solids, such as sand, gravel, grain, broken glass and debris, gaseous and liquid media; Underground conveying. Conveying pipes for glass manufacturing plants. Wharf. Steel works. Quarry. Shipyards. Cement plants etc. It is used as a durable protective tube.
Attributes: high wear resistance protection. With lower reinforced metal wire and narrow tilt (abrasion resistance is 6 times higher than most rubber materials and 5 times higher than soft PVC); the inner wall of the hose is smooth. The flow in the tube is smoother. Lightweight and flexible. High pressure resistance. Vacuum and compression; High axial strength. High tensile strength. and tear strength; Good mineral oil resistance. Good chemical resistance. Good resistance to UV and ozone Performance; small bending radius. Not easy to kink. Does not contain softener and halogen. Gas and liquid do not leak. Vacuum sealed; Complies with RoHS regulations. It can discharge static electricity through spiral wire grounding.
Structure: Spiral elastic steel wire is firmly implanted into the wall of the tube. The external fluidity is optimized. The wall thickness is about 1.5 mm. The main wear area is strengthened;
Material: Pipe wall: special polyether-polyurethane material. Spiral wire: elastic steel wire;
Temperature range: about -40°C to +125°C. It can reach +150°C in a short time.
Specifications:
I.D

O.D

OP.pressure

Bend radius

( middle of

hose)

Weight

Length

Item NO

positive

pressure

negative

pressure

mm

mm

bar

bar

mm

Kg/m

m

32

43

5.15

1

116

0.68

LKE-554-0032

38

49

4.38

1

132

0.79

LKE-554-0038

40

51

4.17

1

138

0.82

20

LKE-554-0040

45

56

3.75

1

151

0.91

20

LKE-554-0045

50

61

3.65

1

165

1

20

LKE-554-0050

55

66

3.42

1

178

1.09

20

LKE-554-0055

60

71

3.15

1

192

1.18

20

LKE-554-0060

65

76

2.91

1

205

1.27

20

LKE-554-0065

70

82

2.71

1

221

1.37

20

LKE-554-0070

75

87

2.54

1

235

1.46

LKE-554-0075

80

92

2.38

1

249

1.55

LKE-554-0080

90

103

2.12

1

309

2.06

20

LKE-554-0090

100

113

1.91

1

339

2.27

LKE-554-0100

102

115

1.88

1

345

2.31

20

LKE-554-0102

110

123

1.74

0.985

369

2.48

20

LKE-554-0110

115

128

1.67

0.96

384

2.58

20

LKE-554-0115

120

133

1.6

0.935

399

2.69

20

LKE-554-0120

125

138

1.54

0.9

414

2.8

LKE-554-0125

127

140

1.51

0.89

420

2.84

LKE-554-0127

130

143

1.48

0.865

429

2.9

20

LKE-554-0130

140

153

1.375

0.84

459

3.11

20

LKE-554-0140

150

163

1.28

0.84

489

3.68

20

LKE-554-0150

152

165

1.27

0.835

495

3.72

LKE-554-0152

160

173

1.21

0.805

519

3.91

20

LKE-554-0160

170

183

1.135

0.78

640

4.15

20

LKE-554-0170

175

188

1.105

0.755

658

4.26

20

LKE-554-0175

180

193

1.07

0.74

676

4.38

20

LKE-554-0180

200

214

0.97

0.66

835

4.86

20

LKE-554-0200

225

239

0.86

0.565

932

5.45

LKE-554-0225

250

264

0.78

0.41

1.450

7.35

LKE-554-0250

275

289

0.705

0.275

1.590

8.07

20

LKE-554-0275

300

314

0.65

0.215

1.725

8.78

LKE-554-0300