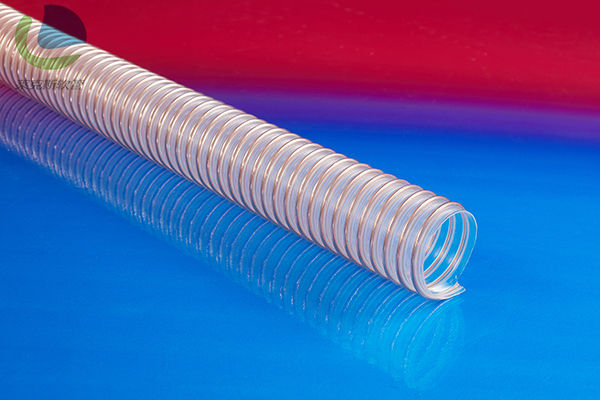 PU wear-resistant steel wire hose LKE555
Application: PU wear-resistant steel wire hose LKE555 is used as a wear protection tube for suction and transportation. It is especially suitable for the discharge of roof gravel. Underground filling. It is used for vehicle suction and transportation.
Attributes: high wear resistance protection. Reinforced metal wire with lower part (abrasion resistance is 6 times higher than most rubber materials, and 5 times higher than soft PVC); smooth inside. Makes the tube move more smoothly. Light weight and flexible Performance. Improve pressure and vacuum resistance. High tensile strength. and tear strength. Good mineral oil resistance. Good chemical resistance. Good UV and ozone resistance. Small bending radius. Not easy to kink. No softener and halogen. No gas and liquid leak. Grounding through spiral wire can discharge static electricity.
Structure: Spiral elastic steel wire is firmly implanted into the wall of the tube. The external fluidity is more optimized. The wall thickness is about 2.5 mm;
Material: pipe wall: special polyether-polyurethane material. Spiral wire: elastic steel wire;
Temperature range: about -40°C to +125°C. Up to +150°C in a short time
Specifications:
I.D

O.D

OP.pre

Bend radius

( middle of

hose)

Weigth

Length

Item NO

positive

pressure

negative

pressure

mm

mm

bar

bar

mm

Kg/m

m

63

75

3.0

1.10

160

1.50

10

LKE-555-0063

70

85

2.515

0.900

187

1.61

10

LKE-555-0070

85

100

2.080

0.750

220

1.92

10

LKE-555-0085

100

115

1.775

0.67

253

2.38

10

LKE-555-0100

102

117

1.74

0.67

256

2.45

10

LKE-555-0102

125

140

1.43

0.46

308

2.88

10

LKE-555-0125

127

142

1.405

0.46

312

2.97

10

LKE-555-0127

150

165

1.195

0.385

363

3.45

10

LKE-555-0150

152

167

1.18

0.385

367

3.51

10

LKE-555-0152
其它规格均可定做!