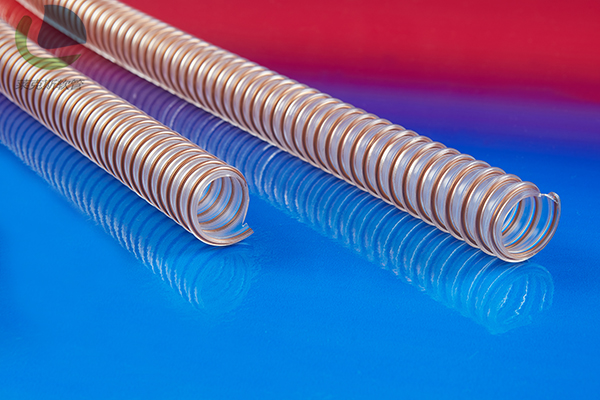 Wear-resistant hose LKE556
Application: Wear-resistant hose LKE535 is generally used for wear-resistant suction and transport of highly wear-resistant solids, such as sand, gravel, grain, broken glass and debris, gaseous and liquid media at high flow rates, underground; Conveyor pipes for glass factories, wharves, steel mills, quarries, shipyards, cement factories, etc., are used as durable protective pipes.
Properties: high wear resistance protection, with lower reinforced wire and narrow tilt (wear resistance is 2.5~5 times higher than most rubber materials, 6 ~ 8 times higher than soft PVC); Smooth interior, low wind resistance, optimized flow characteristics, light weight and flexibility; High pressure, vacuum and compression resistance, high axial strength, high tensile strength and tear strength. Can be made into food hose, the wall conforms to: FDA 21 CFR 177.2600 and 178.2010, EC regulation 2002/72/EC including the revised Regulation 2007/19/EC; Antimicrobial and hydrolytic, good chemical resistance, good uv and ozone resistance; Good low temperature reflexes, small bending radius, not easy to knot, no softening agent and halogen, no leakage of gas and liquid, vacuum sealing, through the spiral wire grounding to discharge static electricity.
Structure: The spiral elastic wire is firmly implanted into the pipe wall, the wall thickness is about 3.0-3.5mm, and the main wear area is strengthened.
Material: Pipe wall: special polyether-polyurethane pre-pur; Spiral wire: elastic wire
Temperature range: approx. -40°C to 125°C, short duration approx. 150°C.
Product specifications:
I.D

O.D

OP.Pressure

Bend radius

( middle of hose)

Weight

Length

Item NO

positive

pressure

negative

pressure

mm

mm

bar

bar

mm

Kg/m

m

50

67

4.01

1

214

1.49

10

LKE556-0050

60

77

3.465

1

246

1.76

10

LKE556-0060

65

82

3.2

1

262

1.89

10

LKE556-0065

75

92

2.795

1

294

2.04

10

LKE556-0075

80

97

2.62

1

310

2.3 0

10

LKE556-0080

100

117

2.1

1

374

3.2 0

10

LKE556-0100

102

119

2.07

1

381

3.26

10

LKE556-0102

125

142

1.695

0.93

454

3.95

10

LKE556-0125

127

144

1.66

0.93

461

4.01

10

LKE556-0127

150

167

1.41

0.9

534

5.05

10

LKE556-0150